For my art site, I believe in having a social media presence on multiple platforms. I also prefer to focus my time creating content for my own site and then share it from there. And of course, I want my content to look good. Currently I have fan pages set up on Facebook, Twitter, Google+, Tumblr, and I also push my new content to my LinkedIn profile. Below are the tools I'm currently using.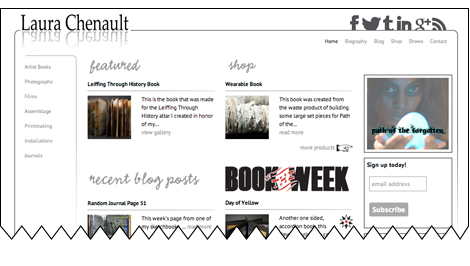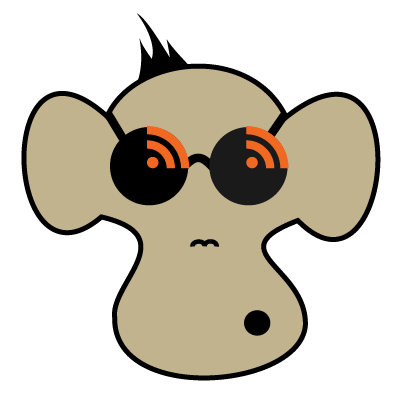 All of this is done using the RSS feed. CMS driven platforms such as WordPress, Bloggr, or Tumblr should create a raw RSS feed automatically, although it probably won't look very nice. Feedburner can clean it up for you.

Feedburner can easily theme your RSS (Rich Site Summary) driven content and offers integration to popular readers. Feedburner also supports publishing your feed to Twitter. Here's what my Drupal RSS looks like before Feedburner…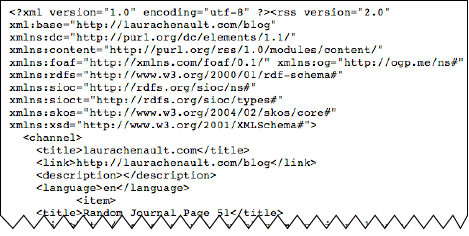 …and after.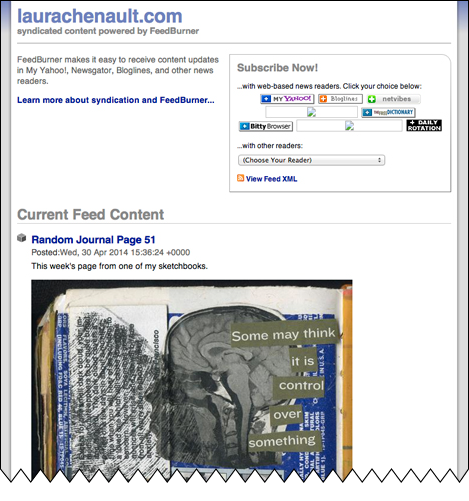 Definitely an improvement! To see what your raw RSS feed looks like navigate to YourSiteName.com/rss.xml.

HootSuite allows you to view and interact with multiple social networks. Their free plan includes integrating up to 5 networks allowing you to publish content to all of them at once. There is also the capacity for scheduled posts, location tagging, and integrated privacy settings.
I primarily use HootSuite to push my content to my Google+ page. I've tried a few different combinations of services and feeds and have found that using the Feedburner RSS feed with HootSuite looks best on Google+. This is controlled in the RSS/Atom section of HootSuite's settings. Here is a comparison of the IFTTT recipe vs. the HootSuite post.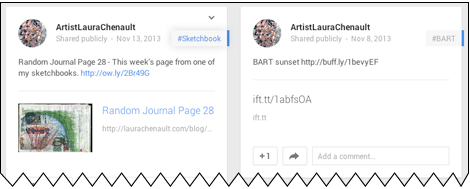 Since my site is primarily images, I definitely prefer HootSuite on the left.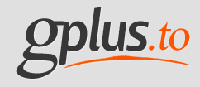 GPlus
 allows you to have a slightly nicer Google+ name. Basically a URL shortener, the name defaults to the long numerical Google generated name once it loads. Google+ is inviting page owners and individuals to change this, making this service obsolete.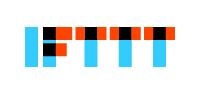 IFTTT (If This Then That) is a powerful service that allows you to automate almost anything. Helpful lifestyle updates such as receiving a text when you need to pack an umbrella or an email when tomorrow's forecast calls for snow are handy recipes that you can use. There are powerful back up tools that allow automatic back ups of photos posted to Flickr or Instagram to your preferred cloud service. For social network integration, I'm using these straight forward recipes designed by others to publish my RSS driven content. You can create triggers based on keywords in your content and more. These are the recipes I'm using now.
RSS to LinkedIn profile
RSS to Twitter (currently I'm using the Drupal module)
As I mentioned above, RSS to Google+ was not very pretty, so I'm using HootSuite for this push.
Log in to all of your social networks before signing up for HootSuite and IFTTT to make the integrations a little easier, and make sure you copy your RSS feed into each recipe. Also when you change passwords, it's a good practice to double check that your networks are still linked.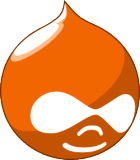 Drupal is king for content management, but the social network integration is better suited to pulling, sharing, and commenting. Twitter is the exception and is one of the easiest to integrate and gives specific control over individual posts. I followed these instructions.
​Drupal Modules
Create your custom Twitter App 
I find this to be the best and most direct social integration and I look forward to when other social networks are as smooth. The Twitter publishing shows up as one of the bottom vertical tabs when creating content and the content published can be customized globally through the content type edit page. Authors with the proper permissions can add custom hashtags and intros for any content. 
If you don't have this level of access to your site or lack the expertise, Feedburner and IFTTT are excellent options for simple Twitter integration.
Next week's post will cover what content goes best with different social platforms, how long the ideal post should be, and what the best frequency is to reach out to your networks. Stay tuned.